Join us: fb.com/earthwithoutpoverty
Bill Gates Makes an additional $5 Billion donation. 
Bill Gates made his largest single gift since the turn of the century, giving away Microsoft Corp. shares that accounted for 5 percent of his fortune, the world's biggest.
The billionaire donated 64 million of the software maker's shares to the Bill & Melinda Gates Foundation on June 6, according to Securities and Exchange Commission filings released Monday. The shares were valued at $4.6 billion at the time.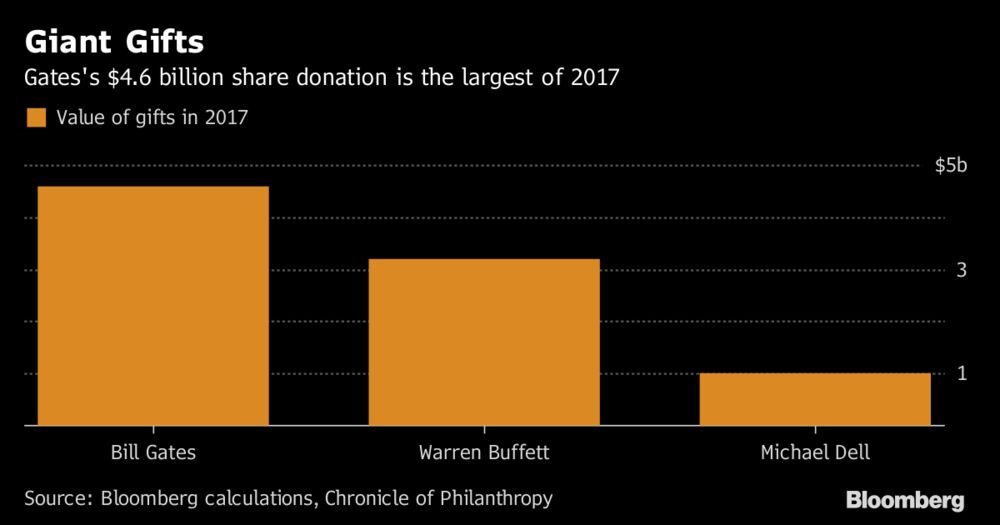 It's the largest gift of Microsoft shares that Gates, 61, has made since 2000. He gave away $16 billion worth of the stock in 1999 and $5.1 billion a year later, according to calculations by Bloomberg.
"It's a change in how he distributes that asset," said Ben Silverman, research director at InsiderScore, noting that Gates has been reducing his stake methodically for years through share sales to fund his foundation.
Spokesmen for Gates and Redmond, Washington-based Microsoft didn't respond to requests for comment.
Historic Giving
Gates probably has directed more than 700 million shares of Microsoft into the foundation, adjusting for stock splits, and he would be about $50 billion richer today had he kept them. The June gift represents 38 percent of his holding in the company and is the latest in a long line of Microsoft share disposals that have whittled his stake from 24 percent in 1996 to 1.3 percent now.
Gates remains the richest person on earth after the donation with a fortune the Bloomberg Billionaires Index valued at $86 billion as of 10:40 a.m. Tuesday in New York. His donation once again puts Amazon.com Inc. founder Jeff Bezos close to the top spot, with a net worth of $84.5 billion.
Bezos, 53, whose fortune has surged 30 percent since Jan. 1, briefly leapfrogged Gates last month to become the world's richest person on an intraday basis.
Source: https://bloom.bg/2we5TOh